Meet Our Interior Design Team
Noelle Micek
Principal Designer & Owner
Noelle Micek
Principal Designer & Owner
Noelle Micek Interiors specializes in creating classic, tailored and fresh residential interiors in Carmel, Monterey, Pebble Beach and the greater Bay Area. We are passionate about helping our clients design new builds, update their homes with renovations and refresh their interiors with full service interior design.
Noelle founded her eponymous firm in 2009, after a successful career at Goldman Sachs. Her experience in finance sets her apart, as this foundation ensures that her client's projects are organized, that deadlines and budgets are met, and that communication is open and clear. As a very detail oriented person, she and her team thrive on listening to the needs and wants of each client and delivering inspired and creative results.
Noelle has had the opportunity to work with high profile and celebrity clients across the country. She is known for fusing the disciplines of organization and design in her signature style of Refined Coastal. Noelle is respected for her work ethic, passion for design, and unique interiors. Her work has been featured in award wining publications such as Coastal Living Magazine, Carmel Magazine, 25 Beautiful Homes, New England Home, Parents Magazine and HGTV.com.
Noelle has lived in the Bay Area for over 30 years and is honored to give back to her community through serving on the board of the Monterey Symphony, and as a founding board member of the Nephrotic Syndrome Foundation.  She currently lives in Carmel-By-The-Sea, California with her husband, John, daughter, Charlotte and son, Jack.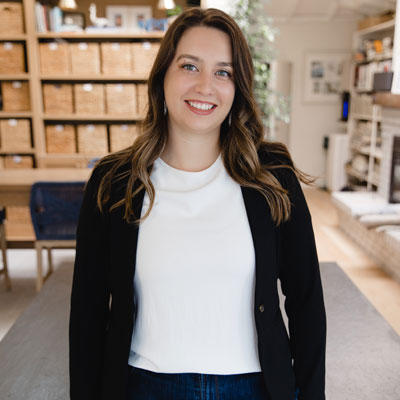 Jessica Uhlig
Director of Design Operations
Jessica is an integral part of the Noelle Micek Interiors team and provides our clients with exceptional support. As Junior Designer & Project Manager, Jessica assists and advises Noelle throughout the design process, procures and manages all design items, and coordinates with all vendors to ensure the design process stays on track and the finished product exceeds our client's expectations.
Jessica graduated from San Francisco State University with a Bachelor of Science, Interior Design. She excelled through her courses while at the university, and was the graduation speaker of her Interior Design class. Prior to her education at San Francisco State University, she obtained an Associate in Science, Architecture from College of San Mateo.
Her passion for architecture and interiors has inspired her to be actively involved in the process of creating and enhancing the built environment in which we live. She has a great appreciation for practicality within design and loves to see aesthetics and functionality meld together.
Jessica has a considerable amount of work experience that contributes to her organizational skills and attention to detail. She has worked at a variety of companies that enable her to channel her competencies into the Project Manager
role which results in a well organized, thorough product.
Jessica grew up in the Bay Area and calls the San Francisco Peninsula home. She currently lives in Monterey and enjoys all that the Monterey Bay has to offer.
Solene is an integral part of the Noelle Micek Interiors team. She loves to take part in projects from start to finish and to find the most efficient ways to move projects forward.
As a Procurement Manager, Solene assists the NMI team in ensuring that the project runs efficiently to create our client's dream home. She is a highly dedicated and organized person and handles all details related to procurement and order tracking all the way through to installation. 
 
Solene graduated from the University of California, Santa Barbara with a Bachelor's Degree in Political Science. Her diverse career and excellent work ethic gave her a great foundation to become the detail-oriented and proficient Procurement Manager she has become. Solene's experience in client relations combined with her passionate and positive energy makes her a highly efficient and collaborative member of our team.
She especially enjoys being a part of a team that creates equally practical and beautiful spaces. 
Solene grew up in Carnac, France, and has called Carmel her home for the last decade. She currently lives in Monterey where she enjoys the vibrant community and beautiful sights.
Laura is our Senior Designer responsible for overseeing and driving the design development and project management for all assigned projects related to interior furnishings as well as designs for additions, renovations, and new homes. Laura works closely with the NMI team to develop the complete project design suite from conceptual design to finished projects.
Laura made California her home after attending the University of San Francisco where she received a BA in Interior Architecture. After a 14-year stint in Sun Valley, Idaho, Laura has returned to her California roots and now resides in Carmel Valley with her husband, Hunter, daughters Carson, Chloe and Sawyer and their three dogs, Lilly, Winston and Woody.
Laura has over 20 years of design experience working in the San Francisco Bay Area and Sun Valley, Idaho where she worked independently and for several celebrated, high-end residential and architecture firms. Her fascination with the world of design and all things creative started at an early age, driving her to pursue a career in interior design. Her attention to detail, and drive to create comfortable, beautiful spaces makes her a huge asset here at NMI. When she's is not helping clients create iconic spaces, she can be found spending time with family and friends, exploring the outdoors and pursuing her passion for hiking, yoga, skiing, gardening and travel.
One surprising fact about Laura is that she also has a background as a professional ski coach and has helped many young skiers make their first turns.
Laura's love for design is contagious and client's satisfaction is always her highest priority.