Top Interior Design Firm in Carmel, Pebble Beach & The Greater Bay Area
New construction: partnering with architects and contractors for your custom home
We love working with architects and contractors to bring the complete vision of your home to life. We care about every detail, from ensuring that the functional needs of your family are met to designing furnishings that fit your lifestyle.   At NMI, we design and create CAD drawings of everything from your new custom kitchen to bespoke built-in cabinetry. We source flooring, lighting, tile, finish woodwork, furnishings and more.  The NMI team prides ourselves on building homes that not only meet our client's functional needs, but that also envelop them in livable luxury.
We can't say enough great things about Noelle and her team. She was our design partner on the building of our new home in Manhattan Beach and selected everything from counters to fixtures to furniture. She spent a great deal of time with us up front to understand our vision, style, and importantly our functional/practical needs and she worked closely with our architect and GC to ensure that our vision came to life. Noelle is professional, talented, creative, hardworking and trustworthy. She designed a home for us that is both beautiful and functional and took into account the needs of our young family when selecting fabrics, fixtures and furniture.
Renovations: Realizing your home's full potential
Helping a home realize it's full potential is such a rewarding part of what we do. NMI will rework your space to maximize the square footage and create a home that fits your needs.  Whether it's designing the perfect open floor-plan,  or creating the space for a luxurious master bathroom, we work closely with you and your contractor to update your home and create a retreat for you and your family.
Our mountain cabin had served the family well for over 40 years but, was in dire need of a structural update and renovation. We knew that we not only needed an architect to work with us on the new structure, but that we also needed an Interior Designer to create the fresh and timeless space we really desired. Noelle exceeded all of our expectations by creating a beautiful and functional space that is a unique blend of style and grace in a rugged forested setting. Working closely with our builder, she coached the construction team on the level of detail required to achieve the look that she envisioned and developed an excellent rapport with everyone involved in our project. Her extensive personal involvement, attention to detail and extraordinary sense of color, functionality and design resulted in a place that we are now proud to call our mountain home.
Interior Design: Creating a bespoke home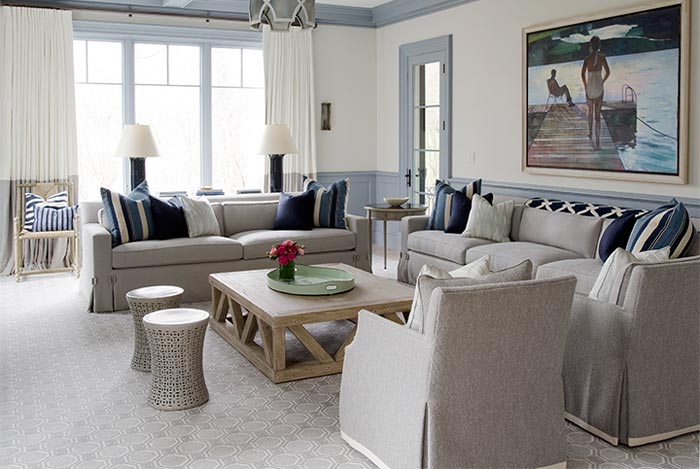 Designing a room to enhance how you live in it is one of our core philosophies. We want every piece to have a purpose and to elevate your life in your home. This starts with a space plan that ensures that your functional needs are met. Weather it's integrated custom cabinetry, the proper amount of seating for your family or for how you entertain, or designing a multi-functional guest room/office, we design spaces that are not only beautiful, but functional as well. The NMI team takes care to select durable fabrics and to design comfortable and timeless upholstered pieces and case goods that are up to the task. And we pull every detail together to create a finished  home that feels calming, inviting and luxurious.
Noelle and her team are incredible! We can't say enough about what a fantastic experience we had with them. Noelle is extremely organized, trustworthy and a pleasure to work with. She helped us design our dream home in San Francisco! We especially appreciated her attention to detail and ability to add personal touches to her work based on our style and needs. We gave her an idea of what we wanted for the end result and she went above and beyond to exceed our expectations. Noelle and her team's approach combined practicality with aesthetics. She was able to find the right fabrics that could withstand the test of three young children while balancing her design plan. Best of all Noelle and her team were always reachable to discuss any concerns or questions we had. We are so grateful to have worked with Noelle and her team. They created the perfect home for our family and we couldn't be happier with the entire experience!